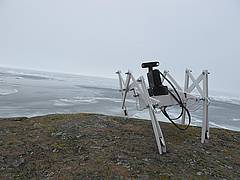 Robots and Avatars Exhibition is now touring to KIBLA, Maribor (Slovenia) from 5 to 30 October 2012 as part of Maribor 2012: European Capital of Culture.
The exhibition presents a variety of immersive experiences – from unconventional approaches to social networks, re-defining and exploring their influences and dead ends, through virtual worlds rendered into pixels through the act of touch, collaborative landscapes stretching beyond the confines of popular gaming, to electro-acoustic biological extensions, wearable technologies and interactive robotic elements that affect and try to define us, to seemingly ordinary, human behavior imitating robots.
Alongside the presented artworks,the Exhibition will include a series o workshops run by Artists, events and debates.
Exhibiting artists and works:
Louis Philippe Demers/Processing Plant (CA, DE): The Blind Robot; Ruairi Glynn / Motive Colloquies (UK): Sociable Asymmetry; Michael Takeo Magruder, Drew Baker, Erik Fleming, David Steele (UK): Visions of Our Communal Dreams; Niki Passath (AT): ZOE; Mey Lean Kronemann (DE): lumiBots; Sašo Sedlaek (SI): Beggar 1.0; Andre Almeida, Gonçalo Lopes, Francisco Dias, Guilherme Martins (PT): NAVI; Marco Donnarumma (UK): Music for flesh II; Martin Bricelj Baraga, Slavko Glamoanin / MoTA (SI): Public avatar, Martin Bricelj Baraga (SI): RoboVox; Aymeric Mansoux, Dave Griffiths, Marloes de Valk (FR, UK, NL): Naked on Pluto; Salvatore Iaconesi, Oriana Persico / Art is Open Source (IT): The Electronic Man; Matthieu Cherubini (CH): rep.licants.org; Martin Hans Schmitt (DE): Robot world
Opening performance
Marco Donnarumma (UK): Music for flesh II
Read more here: www.robotsandavatars.net/exhibition/robotsandavatars_kibla/