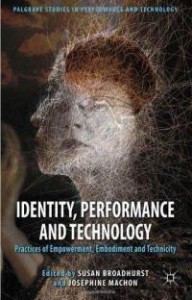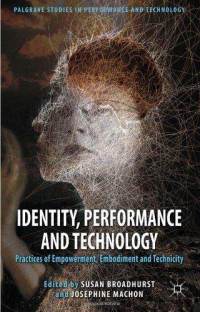 'Identity, Performance and Technology' (Palgrave Studies in Performance and Technology)
Josephine Machon (Author, Editor), Professor Susan Broadhurst (Author Editor), 2013.
The book  investigates the implications of technology on identity in embodied performance; the discussion within it forms a forum of debate exploring the interrelationship of and between identities in performance practices, informed by new technologies. This collection considers how identity is formed, de-formed, constructed, deconstructed, blurred and celebrated within diverse approaches to technological performance practices.
It featured an essay by Ghislaine Boddington 'Woven Bodies, Wowen Culture' alongside a series of essays of experts, artists and practitioners.
Digital practices as experimental artworks and performances both serve as critique and have an indirect affect on the social and political. The discussions included in this collection highlight how a redefinition of the latter term comes about in as much as they question the very nature of our accepted ideas and belief systems regarding new technologies. These essays demonstrate how embodied technological practice, as with all avant-garde art, presents itself and any analysis applied to it as an experimental extension of the socio-political and cultural experience of an epoch.
Check and order here.