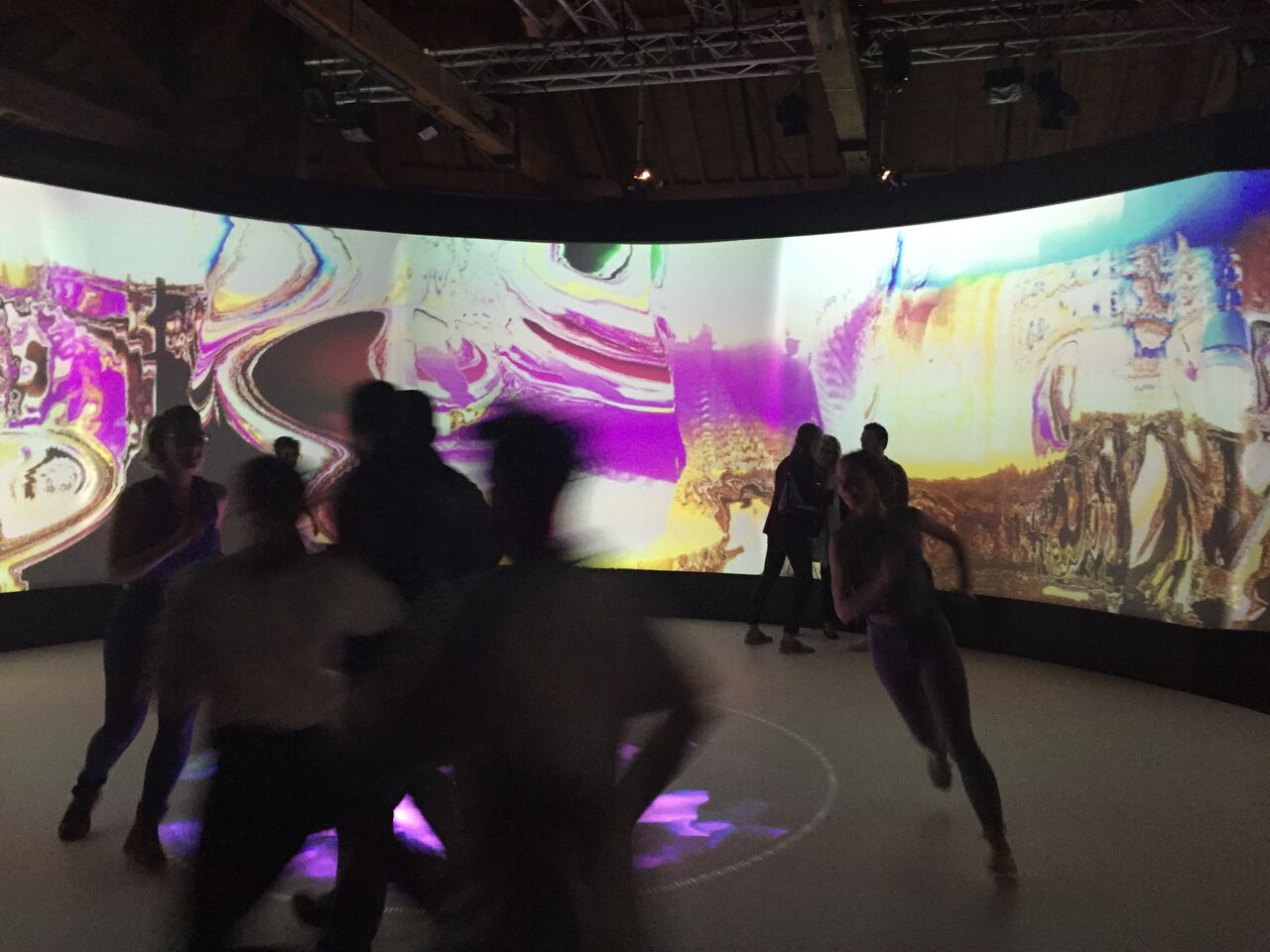 'Collective Reality' comes alive when you come together

As aware of us as we are of it, this digital environment invites us to move and perform as a group to create unique visuals and sounds. Using a convergence of generative technologies, it looks ten years ahead, beyond the current VR headset craze, to real-time collective reality.
It uses motion tracking, surround sound, projection mapping and performative inserts technologies to create a living, breathing virtual presence environment that can be experienced by groups in real-time.
The installation will be made up of two zones: 'the experimental zone' where the audience move through the space and 'the performative zone' a round stage where freestyle footballers and dancers will perform and interact with the space every 30 minutes.
Come and experience togetherness!
FutureFest / 17 -18 September 2016 / Read more
Collective Reality – Commissioned by FutureFest 2016 and created by interactive design collective body>data>space in collaboration with the University of Greenwich (Creative Professions and Digital Arts), d3 technologies and Genelec. With support from Panasonic, The Games Europe Plays, EUNIC London, British Council, Stage Sound Services, iSci and the Freestyle Footballers Federation.
Overall Direction by body>data>space – Ghislaine Boddington
Lead Artists – Ghislaine Boddington, Joseph Hyde, Nick Rothwell and Phill Tew
Creative Technical Director – Nick Rothwell
Creative Visuals / Sounds – Joseph Hyde, Nick Rothwell, Phill Tew and Yuli Levtov
Software Platform – Phill Tew, Nick Rothwell and Yuli Levtov
Movement Direction – Nina Kov, Ghislaine Boddington
Performers – Bethiris James, Eliza Delite, Dan Jose, Jamie Knight, Chris Matthews, Agnieszka Mnich, Maria Palmieri, Shama Rahman
Movement Jockeys – Charlotte Buschbaum, Eleanor Chownsmith, Gulia Iurza, Giacomo Pini, Sophie Tellings, Selene Travaglia
Invigilators – Geraldine Atger, Elly Goodman, Elsa Hackett, Debbie Jelenke, Willow Kirkman, Nat Mortimer, Sara Morris, Quinn Oulton, Louka Oulton, Miriam Sorrentino, Jo Tasker, Tadej Vindis
Marketing – Marie Proffit for body>data>space / Georgina Roberts and Kasia Murphy for FutureFest / Alexandra Craft for University of Greenwich /
Production and Coordination – Ghislaine Boddington and Debbie Jelenke for body>data>space / Rebecca Rossini and Josh McNorton for FutureFest / Anastasios Maragiannis, Ian Thompson and Andrew Hill for University of Greenwich
Stage Managers – Terry Tyldesley, Geraldine Atger
d3 technologies– Chris Bird with Christian Dickens, Serhiy Pikho and Guy Spedding for d3 / UVA
Technical Support – Danny Santos, Matt Barton and Alex Wright for University of Greenwich
Documentation – Tadej Vindis for body>data>space / Anastasios Maragiannis with Ovidiu Mocanu and Abel Capistrano for University of Greenwich
Research Overview – Dr Stephen Kennedy with Anastasios Maragiannis and Gauti Sigthorsson for University of Greenwich
Picture: Terry-Tyldesley