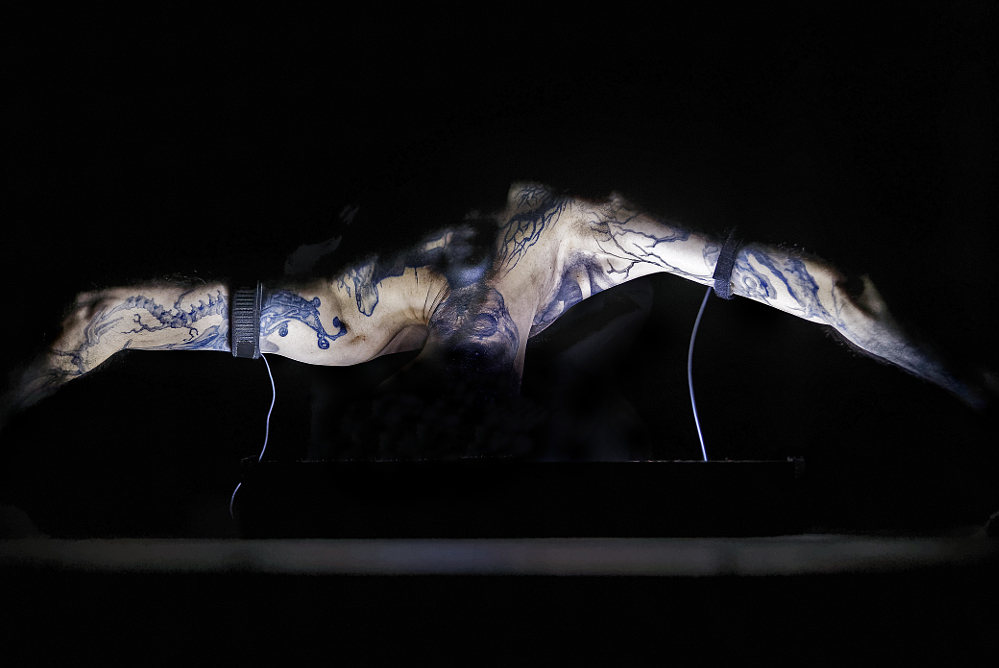 Last stop in 2016 for The Games Europe Plays exhibition curated by Ghislaine Boddington.
As part of FutureFest, The Games Europe Plays presents 'Molding the Signifier' an installation by Ivor Diosi (Czech Republic), a digital performance by Marco Donnaruma (Italy) and supports the performance of athletes into FutureFest's new digital commission, Collective Reality (UK).
In 'Molding the Signifier' by Ivor Diosi you'll meet 3 chatty avatars who get infected by a mysterious bacteria slowly disrupting their conversation and behaviour. Marco Donnarumma (picture) uses his heart beats, blood stream and muscle contractions to create digital music and media. Collective Reality is an immersive installation that generates visuals and sounds through motion, open to the audience and to performers.
The Games Europe Plays premiered at the Finnish Institute in April 2016  as part of London Games Festival and showed at the University of Greenwich in July/August. The Games Europe Plays is a series of exhibitions, events and talks inviting developers, makers, academics from Europe to meet and debate with the London audience. It showcases the best of EU gaming from full-bodied gaming interactive installations as well as screen-based games and apps.
FutureFest / 17 -18 September 2016
Tobacco Dock, London, E1W 2SF
Book your ticket on www.futurefest.org
The Games Europe Plays  is a EUNIC London project, produced by the Finnish Institute and body>data>space. The project is supported by the British Council and the Arts Council England. It is presented at FutureFest with additional support from the Czech Centre and the Italian Cultural Institute.