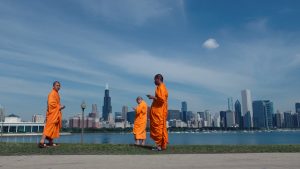 Mapping _ Digital Shifts is proud to present the first edition of Paradigm Shift, a two-day international forum gathering inspiring artists, designers, curators, journalists, decision makers and researchers to critically reflect, raise questions and discuss the state of culture and society in today's technology driven world.
Through a a series of talks, presentations (including LaTurbo Avedon, artist-avatar), discussions and screenings, each half-day session will further explore this year's theme: Technology Now, Society Tomorrow, and the Religion for a Brave New World.
Ghislaine Boddington's talk, Future Love – The Internet Of Bodies will explore how the Internet and digital technologies are shaping the way we experience love, sexuality, friendship and intimacy. Her talk will also look at the possibilities and implications of romantic and sexual relationships in sense enhanced digital immersion environments with future partners such as human-like robot companions and avatars, sharing her future visions on the "Internet of Bodies".
25th May – Mapping Festival – Geneva
Full info and booking
here