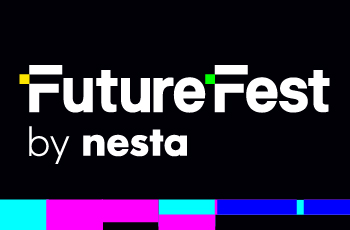 FutureFest 2018 takes place on Friday 6 and Saturday 7 July at Tobacco Dock in London, and there will also be a series of special events leading up to it. You can sign up to the FutureFest newsletter for more info.
Schedule for Friday 6th and Saturday 7th July.
Tickets are available here – Choose General Admission at Registration Page page drop down and add the code BODYDATASPACE_FF18 at the payment point.

Ghislaine returns for a third time as a co-curator of Nesta's FutureFest, which takes place this summer in London. body>data>space and Women Shift Digital are also official partners.
Ghislaine is co-curating a range of speakers, installations and debate panels exploring themes linked to the body and data from Future of Work, Machines that Care, to Virtual Physical Immersion and Augmented Bodies.
FutureFest is one of Europe's largest festivals of the future, and explores how the most pressing challenges of our time could be tackled by developing radical alternative future visions. It features thought-provoking debates, innovative showcases, immersive experiences, and mesmerising installations, along with talks from those putting cutting-edge ideas into practice – across democracy and government, work, health, education and the arts.
Creative visionaries appearing include Akala, Douglas Rushkoff, Jude Kelly, Stanza, Rebecca Allen, Prof Carlo Ratti, Aleksandra Mir, Kyle McDonald, Imogen Heap, Atau Tanaka, Vinay Gupta, Joanna Walsh, Aral Balkan, Mike Stubbs, Usman Haque, Amrou Al-Kadhi and Jasmine Idun Isdrake.
Plus some brilliant topical thinkers will be sharing their views, including Ruby Wax OBE, Anne-Marie Imafidon MBE, Gareth Mitchell, Prof Noel Sharkey, Amy Lamé, Sir Nick Clegg, Dr Olivia Umurerwa Rutazibwa, Anab Jain, Juan Mateos-Garcia, Steve Fuller, Prof Michael Ignatieff, Eddie Copeland, Rob van Kranenberg, Paul Mason, Ann Branch, Richard Sennett OBE, Indra Adnan, Charles Leadbeater, Richard Wilkinson, Prof Tony Prescott and Russ Shaw.
In 2016 Ghislaine curated the Future Love theme and directed and produced the major immersive installation Collective Reality.
In 2015 Ghislaine curated the Future Machines theme, which included Blind Robot, by Louis Philippe Demers, a development commission for the Robots and Avatars project (body>data>space, KIBLA, AltArt)