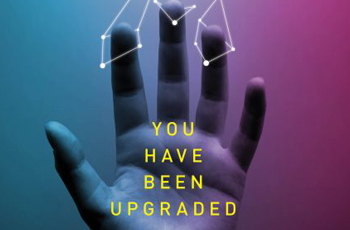 Our presentations this autumn have included:
V&A, Future Series: Fashion
V&A Future Series: Fashion in conjunction with The Future Starts here exhibition, London Fashion Week and London Design Festival, September 14th 2018, Victoria & Albert Museum, London.
In celebration of the landmark exhibition The Future Starts Here, and exploring design futures from a breadth of perspectives – near, far and speculative, this presentation and discussion included leading fashion futurists and explored seemingly impossible fashion products, hosted by Vogue's Lauren Indvik.
Wearable-tech pioneer Lauren Bowker from the unseen, renowned for her colour-changing leather goods collection for Selfridges and brain-reactive crystal-studded helmets for Swarovski, explored her onwards experiments.
Matthew Drinkwater, Head of London College of Fashion's Innovation Agency, contributing inside knowledge on the exciting collaborations between fashion designer talent and tech companies being worked on right now in studios and labs across the UK.
Ghislaine Boddington, body>data>space and winner of the IX Visionary Pioneer Award 2017, shared her international project on future humans, "The Internet of Bodies".
The Victoria & Albert Museum, London Exhibition "The Future Starts Here" is on until November 4th 2018.
It examines how the world of tomorrow is shaped by the designs and technologies emerging today. From smart appliances to satellites, this exhibition brings together more than 100 objects, either newly released or in development, that point towards where society might be headed.
Imperial College Science Communications Silver Jubilee Event
27th September 2018, Imperial College London.
Ghislaine joined her BBC Click colleague Gareth Mitchell who was leading the day at Imperial College. She talked about deeper public engagement for science on a panel What is the role of science communication in a post-truth world? led by Katherine Mathieson CE, British Science Association
You Have Been Upgraded – Manchester Science Festival
18th October 2018, Science and Industry Museum, Manchester
An exciting and inspirational evening produced by Unlimited Theatre. Ghislaine joined a range of speakers to test the limits of human enhancement by checking out high-tech prosthetics and see how virtual reality is revolutionising medicine. The host of the evening Jon Spooner (Unlimited) interviewed some of the UK's leading scientists and researchers in the field of human enhancement in a futuristic, science-inspired mash up of the Graham Norton Show meets Top of the Pops. Ghislaine spoke about her Internet of Bodies and digital intimacy visions with real life cyborgs Manel Muñoz (Spain) and Lepht Anonym (UK). Professor Andy Miah talked about the integration of sports and technology and the ethics involved. The finale was the host himself receiving an implant live on stage administered by biohacker Jenova Rain.