Future Visions
Waterfall – 2007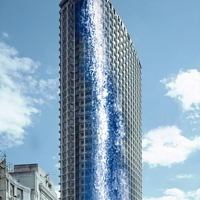 An example of realtime projection onto architecture using LED technologies which can be integrated into different projects and events, shifting the shapes of architectures of the future and using connectivity into the public realm.
Waterfall is a powerful demonstration of telematics, the art and science of broadcasting live images over the internet from one location on to an LED screen or interactive building facade in another. In this case, the effect is created by draping a curtain of Perspex rods containing LEDs spaced several centimetres apart down the facade of a high-rise building. At the viewing distance of commuters and shoppers, the pixellated images will resolve into a convincing facsimile. Collaborators: Elements Labs
Also see: Buildings in Motion
Related Press:  "Moving" buildings become a reality with telematics – Building Design – Nov'06 – PDF 61k
Digi-Meeting Station – 2006

Portable transmitting and receiving units the Digi-Meeting stations beams audio and visual outputs, live and post events, locally and globally. Large LED screen display technologies integrated with compact multi-camera set ups, multi-projections and surround sound systems create an immersive dialogue space which is processed and transmitted real time, allowing the meeting space to be accessible from anywhere in the world 24/7. Living, breathing local-to-local inter-connector the Digi-Meeting stations enables physical users to generate, organise and jointly distribute their thoughts, creativity and ideas.
Collaborators: David Dexter Engineers, Vector Foiltec
Related Press:  "Moving" buildings become a reality with telematics – Building Design – Nov'06 – PDF 61k
ideaspheres – 2006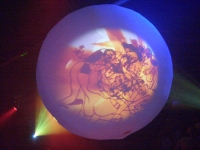 body>data>space ideaspheres are beautiful globe like balloons which act as projection screens for digital images enabling a 3D effect for the imagery. They can be installed as part of an exhibition or on their own, individually or in with multiple balloons of different shapes and sizes. We can also run workshops using the ideaspheres.
Our ideaspheres hang in foyers, lobbies, theatre entrances and exhibition spaces and can show multiple projected loops of diverse visual materials (either made in house by the body>data>space visual team or made during a workshop). With a live mix of videos and stills from the body>data>space content pool, the sphere's are suspended, beautiful, sensual and jewel like.
The ideaspheres have been used at many clubs and events including the Big Chill Bar off Brick Lane in East London for the Christmas/New Year 2004 festive period; The Action for Brazil's Children Trust (ABC Trust), Future Shorts, SE1 Club London and Numero Festival in Lisbon, Artist Links Studio, Shanghai, Leftfield Tent at Glastonbury festival, Late at the Tate Britain, Centre Des Arts, Paris.
Related Press:  "Moving" buildings become a reality with telematics – Building Design – Nov'06 – PDF 61k
Freeze events – 2008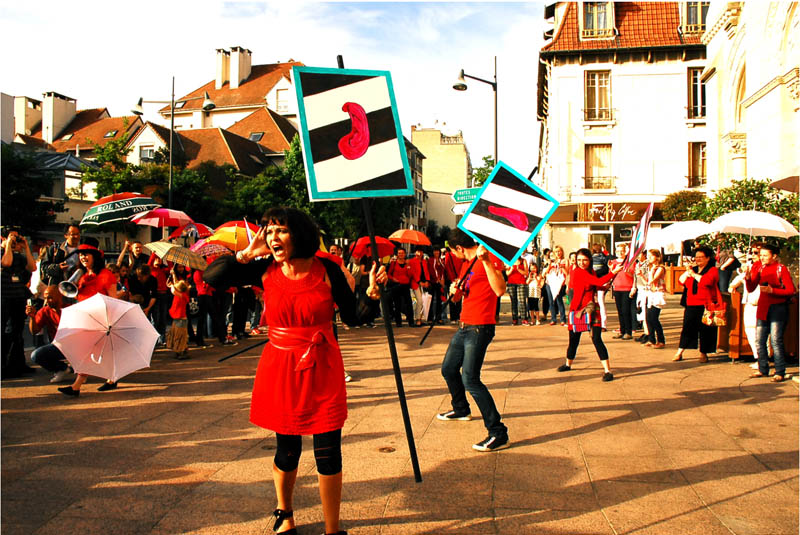 Freeze Plus events are designed to bring together public participants in a creative mix with professional artists in unusual and diverse locations. From the beginning the participants are invited to source and generate ideas and to become involved in the design and narrative of the event. The event itself is actualised by the participants in a mix with professional artists and the end results are magical, with huge inter-generational groups arriving fresh to an event ready to be creative and innovative alongside the event teams.
See links to previous Freeze events.
"DARE WE DO IT REAL-TIME?" – 2009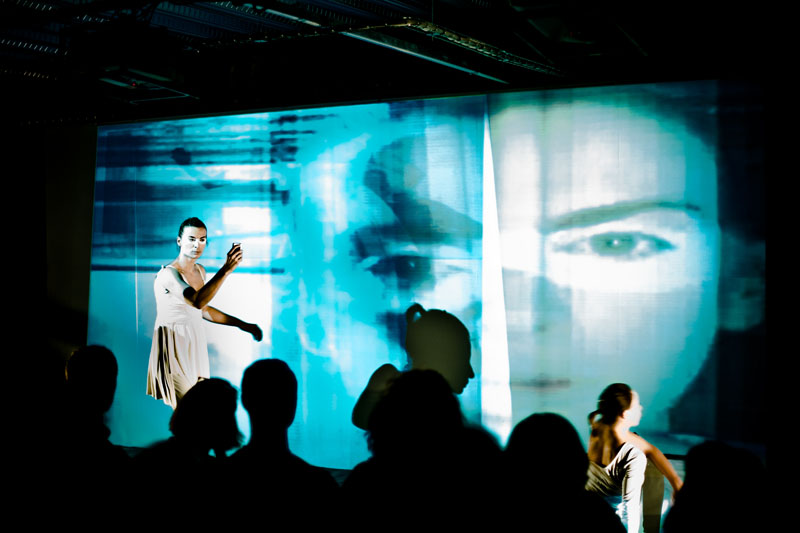 20 minute performance using a variety of realtime processes and structured improvisations between dance, sound, video and virtual world artists. The performance happens live and realtime in an interactive chain of humans and machines. Within the panoramic intelligent environment, digitally networked and responsive graphics combine real-time with the performers on stage to create a multiplex of outcomes. Interactive sound, video and motion components seek out and catch the live bodies, urging them to respond, retaliate and re-act.

[project link]
Virtual Physical Bodies Exhibition – 2009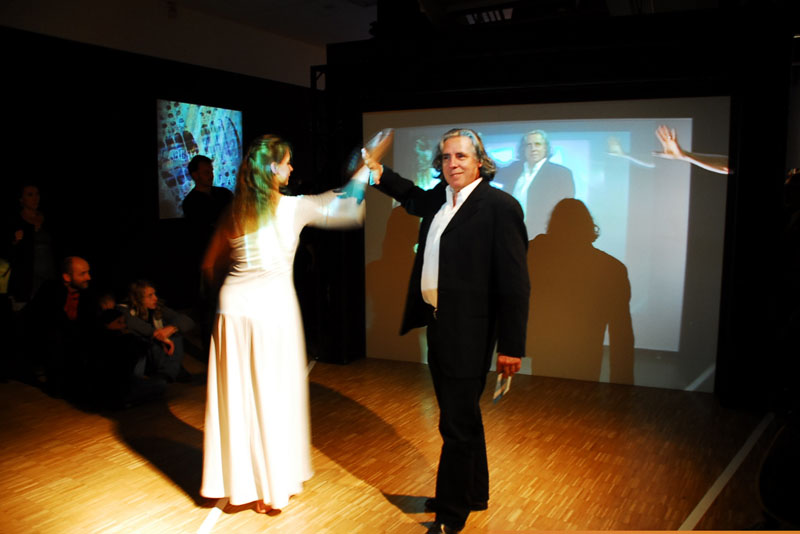 An exhibition body>data>space produced and curated for Centre Des Arts, Paris in 2008/9 . The Virtual Physical Bodies exhibition explored the question of the virtual/physical body and public spaces, and looked at how innovative and emerging technologies can change and modify a new generation body into our real and daily lives. The body is filmed, imagined, pixellated, modelled and animated into real daily environments – into architecture, the city and this exhibition and visitors are taken on a journey of installations and multimedia displays. Available for touring in part (there are five main artworks) or as a whole. You can buy the exhibition catalogue here.