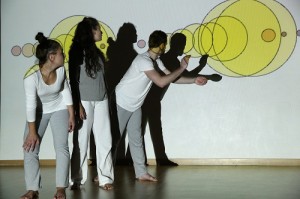 body>data>space is happy to announce that  RING THE CHANGES+ successfully premiered, fully packed in the Purcell Room, Southbank Centre on Friday 5th September as part of Unlimited Festival.  We had the great pleasure to share the stage with Marc Brew's intimate solo 'Remember When'. The show was followed by a Q&A session led by Luke Pell.
RING THE CHANGES+ is a digital dance performance created by deaf dance artist Chisato Minamimura with 3 dancers, in collaboration with Nick Rothwell and body>data>space (Creative Producers).
RING THE CHANGES+ was an invitation to a very mixed audience to experience with their own perception a playful exploration of visual sound, the result of a unique collaboration between dance and digital artists, hearing and non-hearing sensibilities.
A big Thanks to our wonderful Team, Partners and Audience!
Here's the Media coverage that happened so far:
More pictures, video and press coverage coming soon so watch this space!
Supported by Unlimited, celebrating the work of disabled artists, using public funding by the National Lottery through Arts Council England and Creative Scotland. Picture credit: Roswitha Chesher