E-MOTIONAL Bodies & Cities
The project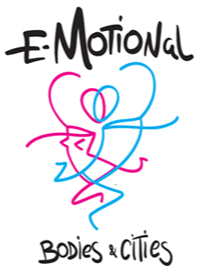 E-MOTIONAL Bodies & Cities is a mobility and artistic exchange dance programme gathering artists and managers from six European countries – Romania, Cyprus, Ireland, Latvia, United Kingdom (as project co-organisers) and Turkey (as associated partner country). The project aims to set up a network of artists and cultural practitioners from several countries in Europe with a low awareness about each other, but which all share a common vision on the future development of contemporary dance.
Beginning in July 2011 it will comprise of five interdisciplinary artistic research residencies in the partner countries; the Motion Fund, a special funding scheme aimed at promoting cross-border mobility of the dance sector; the E-MOTIONAL Exchange – a network to support the development of new collaborative performances and tours; and the Forum which will wrap the project in April 2013.
E-Motional is a co-operation between body>data>space (UK), Gabriela Tudor Foundation (RO) (lead organiser), Dublin Dance Festival (IRL), The Association of the Professional Dance Choreographers in Latvia (LAT), Dance House Lemesos (CY).
The interdisciplinary ARTISTIC RESEARCH will be the flagship of the project. A series of 5 cross-border working periods will be organised alternatively in Dublin, Riga, Limassol, London and Bucharest to question the emotional body and its relation with these cities.
Two different artistic teams will embark together in a co-authorship process to explore the relation between the human body, the urban and geo-political context and new technologies. Read more here.

E-Motional in the UK
body>data>space is producing and hosting 'London – Mapping the E-Motional City' Artistic Research with Watermans Art Centre from 14 to 26th January 2013, with an inter-disciplinary group of 5 artists exploring, exploring the megatropolis and its underlying bodies and emotions. More information on 'London – Mapping the E-Motional City' on our website and on their dedicated blog.
The following UK artists and cultural managers are participating in E-Motional in 2012/2013:
Luke Pell, Gemma Riggs (Artistic Research), Priya Mistry, Renata Gaspar (ArtistNe(s)t Residencies), Rose Payne, Hayley Durward (Mobility Grants) and Lydia Fraser-Ward (Gabriela Tudor Fellowship) are all involved in residencies, workshops, debates and exchanges as part of this exciting transnational project. ArtistNe(s)t Residencies full list can be found here
body>data>space is also involved in training sessions for young cultural project managers in Cyprus and Latvia in 2012/2013. Follow link here to Dance House Lemesos where the latest E-Motional training took place in March 2012.
For information on applying and a list of events taking place, please contact Leanne Hammacott at leanne@bodydataspace.net or visit the E-Motional website
'London – Mapping the E-Motional City' Artistic Research is produced and directed by body>data>space with Watermans Art Centre, supported using public funding by Arts Council England. In association with the Romanian Cultural Institute, with the support of the Cyprus High Commission, the Embassy of Ireland and the Embassy of Latvia.
E-Motional Bodies and Cities is a project developed with support from the Culture 2007-2013 Programme of the European Union, led by Gabriela Tudor Foundation (Romania) with co-organisers Dublin Dance Festival (Ireland), Dance Ireland, The Association of the Professional Dance Choreographers of Latvia (Latvia), Dance House Lemesos (Cyprus) and body > data > space (United Kingdom).