Creative Training and Education

Developing your skills through
creativity!
"In this imperative point in time, at the peak of the digital revolution, a radical shift in ways of learning/teaching is required to support the huge behavioural shifts in ways of being, working, living and playing."
Since the mid 90's the body<data<space team has demonstrated a cutting-edge expertise in delivering learning experiences for young professionals and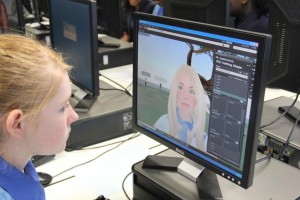 people from diverse sectors and backgrounds. We are well known as top level mentors and excellent
facilitators within the arts and creative industries in the UK, in Europe and internationally.
Read more about our background

What our participants learn:
— Making a difference in society
— Perform together in remote spaces
— What you could make because nothing is impossible
— How to interact in a virtual world"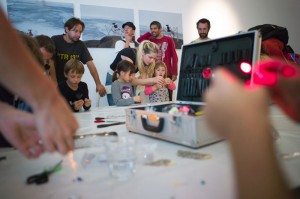 Partners and clients include:
NESTA, idiscover, Harris Academy, FACT, KIBLA, Watermans Art Centre, British Council Latvia (…)
Our programme of work include Learning Experiences in:
— Avatars & Virtual Worlds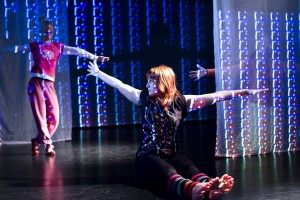 — Telepresence
— Women in Technology
— Online communication & Social media
— Robotic
— Virtual Physical Event Production & Management
— And more generally in the fields of virtual/physical collaboration , audio, video and performance.
These multifaceted learning activities facilitate young people's development of the types of skill-
sets, aptitudes, resources and methodologies they will require for the workplace of the future.
Download our Learning Experiences Pack

idiscover / NESTA
body>data>space was a learning provider for NESTA's idiscover education programme working with schools in London (The Harris Federation), Manchester and the Scottish Highlands which helped young people develop skills and attributes needed in an innovation driven society.
Between June 2010-July 2011 body>data>space has run a series of Robots and Avatars Learning Experiences More than 400 students have taken part from the Harris Federation, a large federation of multi-cultural secondary academies in South London. Most of these participants are between 13 and 16 years old, mixed groups of boys and girls of varying abilities, most of which are willing to specialise into Media, ICT, Enterprise or Performing arts, Graphics, Design, Engineering etc.

Learning Experiences a part of Robots and Avatars EU Project
We developed this set of Learning Experiences on a national and European scale, as well as in the framework of our EU project, Robots and Avatars. A set of workshops have been taking place at FACT, KIBLA and Altart, alongside the touring Robots and Avatars Exhibition.

Key Objectives
We explore issues of identity, communication, collaboration / team work, problem solving and critical thinking for the 21st century. Key areas of interest are collaborative futures, multi-identity issues, future workplace environments and future career opportunities.
The main objectives of our workshop are to encourage:
— Employability: developing innovative, creative skills and knowledge that will be required for future jobs.
— Active citizenship: enabling young generations to understand and become active participants of
their social and technological environment
—Personal development: encouraging individual achievement and creativity through an open, participative pedagogy
Our workshops are stimulating ICT and media "hard skills" that may be used in a professional given context: Software mastering, programming, 3D web design creation, web streaming, video (projection, lighting and camera work), social media mastering, websites and blog management, basic robotics, event management, web marketing etc.
Simultaneously the experiences look to develop "soft skills" including self-confidence, team work, creativity, concentration, motivation, improvisation, body and spatial awareness etc.

Interactive, Open Pedagogy
We focus on non-formal learning methodology, actively involving the participants, encouraging them to create and experiment. Our methodology aims at avoiding passive listening and we offer them a space for expression, interaction and creativity. It reflects our vision of a society that should promote young people's active participation and citizenship, being content producers and not only consumers.

Top Level Facilitators
All our trainers have extensive experience in delivering top level learning experiences with participants from different cultural, social and professional backgrounds, age and gender. Fully accomplished pedagogues and professional artists, all of our teachers are fully CRB (Criminal Records Bureau) checked. Each workshop is delivered by a multi-skilled team, comprising a lead trainer and facilitators.

Further Information
More information is available on request.