Projects and Background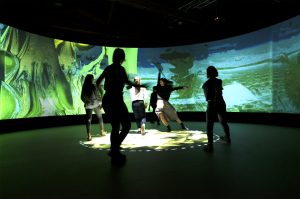 In May 2014 we celebrated 9 years of body>data>space and 25 years since the start of shinkansen, the original collective.
On this occasion we share with you the work of these collectives of international creative digital pioneers – artists, technical creatives and producers that have been 'placing the body at the centre of digital interaction' since the early 1990s.
Throughout the years the collectives have focused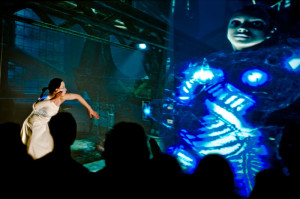 on an interdisciplinary and collaboration methodology, enabling connectivity, inter-authorship, virtual/physical interaction, international co-productions, creative industries evolutions and social media integration. Specific outputs on full body telepresence, remote space connections, motion capture, virtual worlds, immersion experiences, wearable technologies, sense and gesture tech, avatar interaction, robotics and gaming have been produced and distributed worldwide since 1991.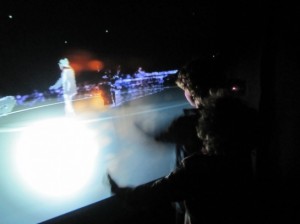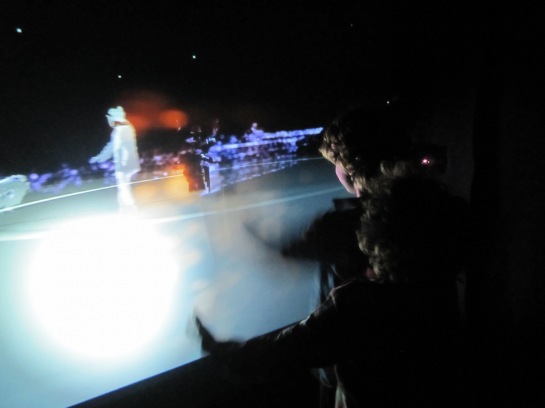 — 9 years since we started body>data>space in March 2005, a creative industries design unit emerging from shinkansen and creating innovative connections between performance, architecture, virtual worlds and new media. Expert outputs recently include the convergence of full body telepresence and motion capture within virtual worlds.
Projects include: skintouchfeel (2005-2007), ideaspheres (2006), Post_Me/New_ID (2007-2009), Dare We Do It Real Time? (2009), Free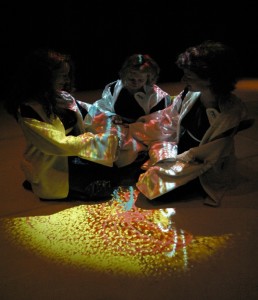 ze-B (209), E-motional Bodies and Cities (2001-2013), Robots and Avatars (2009– ongoing), MADE (Mobility for Digital Arts in Europe) (2010-2012), me and my shadow (2012 – ongoing), Women Shift Digital (2013 – ongoing)
— 25 years since the original collective shinkansen set up in March 1989 as a "sound and movement research unit exploring the new digital age". shinkansen developed a unique niche within the British and International arts scene through facilitating connectivity between dance, performance, music, video and digital technologies (1989-2004). The collective specialised in body responsive technologies, and was recognised as an international pioneer in full body telepresence- creating live links between thousands of participants/adiences across the world for educational, performing arts and creative industries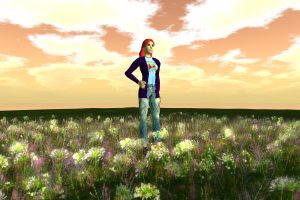 usage since the mid-nineties.
Projects included: Voice Over Festival (1990), Vinyl Requiem (1993), Butterfly Effect Network (1991), Bare Essential/Gender Mayhem (ICA) (1992), European Choreographic Forum (1992-1996), Sound Works Exchange (1994), Club Research (1995), Connectivity (1996), Future Physical (1997-2004), Virtual Physical Bodies (1999 and 2008), CellBytes (2000), Virtual Incarnations (Dance Umbrella/ICA) (2001-2003), Whisper (2002), WEAR ME! (2002), Mersea Circle (2003-2005), Creative User Research (2004), shinkansen collection (2005).
— 3500 plus artists, creatives and producers from around the world have been directly involved in depth in the events, experiences, workshops, debates, exhibitions produced by these two collectives.
— Our first website went up in July 1996 and we have activated about 15 project websites since then, sharing knowledge and resources on the body and digital representation.
— We have produced and commissioned 500 plus interactive experiences, knowledge exchanges and events, often bringing together 3-15 international partners and sources of funding.
— The documentation from 1989 – 2004 was archived by the British Library in 2006.
Across this time the group of artists, technical creatives and producers involved in these two collectives have been engaged at the forefront of pioneer work in the arts and creative digital developments – well recognised internationally for trailblazing interactive participation for artists and audiences across the globe.
We would like to thank our team, our collective and partners that made this set of achievement possible, keeping collective values, innovative thinking and the user experience at the forefront of all the work.