Telepresence
Telepresence is realtime performance or connections using the internet to link two or more remote spaces, allowing participants to collaboratively play, interact, and communicate at a distance. It is like video conferencing but using the full body.
The research and development of performance telematics work that body>data>space (and previous work with shinkansen and Future Physical) have completed over the past 10 years includes over 30 projects – with 2-3 way transmissions between UK, Germany, Japan, China and US in various combinations from clubs, theatres, arts centres, festivals and conference centres.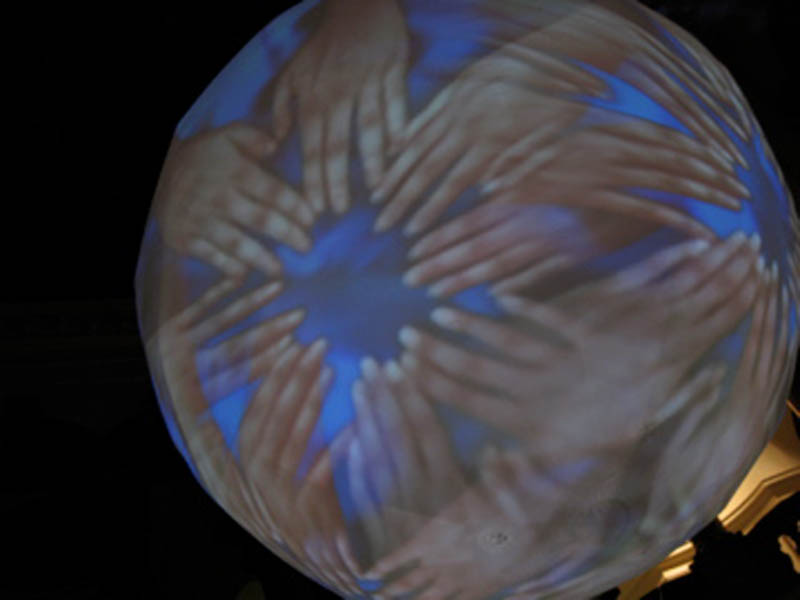 body>data>space has built up extensive experience of live linked performances in spaces which can be miles apart, connecting cultures and people across the world. Its potentials for extending realtime understanding and knowledge transfer are huge and, as broadband speeds increase, so do the uses for telematics in everyday use.
Telepresence can be utilised to enhance and extend future work and play environments and allow the physical live body to be engaged simultaneously with another body at a distance. We can now create immersive local to local connectivity spaces 24/7.
Telepresence is a key area for young people living and working in the 21st century connecting daily (see also our Robots and Avatars programme) through the use of online chat, skype, video conferencing and other virtual interfaces. People can now transmit, receive and respond through gesture communication, and they can play, dance and chat with friends and colleagues who are thousands of miles away, using these full body/voice interfaces.
We can create fun, visually immersive environments revolutionising people connectivity and knowledge exchange, extending understanding of the use of the body in virtual space. Tele-presence, tele-intuition by linking people, in all different kinds of time spaces and through time zones is exciting! Through a tried and tested series of enjoyable, dynamic exercises and workshop techniques we can take any group, young to old, into a physical orientation environment to learn to navigate their way through the telematic space.
We can also we can deliver taster workshops lasting a few hours to half a day, or more extensive telematic workshop experiences. Technical diagrams, equipment lists and budgets can be bespoke for your event and more details can be provided.
Read more about our key current and past projects, processes and works at:
'me and my shadow'
ResCen The Weave
CellBytes00 website
CellBytes01 website
You can download Ghislaine Boddington's essay on Telepresence published as part of The World as Virtual Environment by TMA Hellerau - download here.