Ghislaine Boddington
Creative Director, body>data>space / Reader, University of Greenwich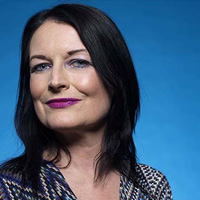 Ghislaine is an artist-curator, researcher and director, a specialist in body responsive technologies and immersion experiences. She is recognised as an international pioneer, having strongly advocated the use of the entire body as a digital interaction canvas for over 25 years.
From a performing arts background, Ghislaine has directed numerous international projects, creating unique convergences between the physical body, telepresence, motion capture, robotics, wearables, sense/gesture tech and virtual worlds. Her work examines the representation of our physical selves and our identities in virtual environments and the hyper enhancement of our human senses through the digital transmission/reception of body data, such as touch, motion, biofeedback and gesture. She has created live links between thousands of participants/audiences across the world for educational, performing arts and creative industries usage since the mid-nineties.
She developed co-creation methodologies for these connected immersive experiences, experimenting with the hyper-enhancement of our senses. Recent installation works include the direction of 'me and my shadow' (National Theatre 2012) and 'Collective Reality – Experiencing Togetherness' (Nesta's FutureFest 2016).
She regularly curates, from Gender Mayhem (ICA, 1993-95), Virtual Incarnations (Dance Umbrella / ICA 2000-02) to international programmes such as 'Future Physical' (2002-04) and 'Robots and Avatars – our colleagues and playmates of the future' (2009-12). Recent curations include 'Future Love' (Nesta's FutureFest 2016) and 'The Games Europe Plays' (EUNIC London 2016).
A Reader in Digital Immersion at University of Greenwich, she is researching what she calls "The Internet of Bodies", the evolution of our future multi-selves through tele-intuition, deep body connectivities (sensors/implants) and the rapid blending of the virtual/physical. Ghislaine has keynoted and presented in over 30 countries, surviving two TedX presentations. She is regularly featured on TV, radio and in the press, giving thought shifting inputs to BBC Business World and the New Scientist among others.
She sits on the Journal AI and Society editorial board (Springer) and is juror for international creative industries and digital arts competitions, such as the Speculative Concepts, Core77 Design Awards 2015. She is a Standing Committee member of DRHA (Digital Research in Humanities and the Arts) since 2006 and for RAN, the French digital arts network, since 2007. She is invited as a key innovator to governmental briefings/conferences in UK and beyond.
She is a co-founder of Women Shift Digital, a Reader at the Dept of Creative Professions and Digital Arts at the University of Greenwich and an Artist Research Fellow at ResCen, Middlesex University since 1999. She consults into Creative Industries sector on innovation and futures, at present as Creative Director of the Plexal Innovation Centre (Here East, Olympics Park London). A key activist in diversity she mentors the Stemettes and through Women Shift Digital. You can catch her co-presenting bi-weekly for BBC Click (BBC World Service Radio).
Some of Ghislaine's publications:
She is the Guest Editor for 2017 issue of 'AI & SOCIETY', Journal of Knowledge, Culture and Communication (Editor-in-Chief: Karamjit S. Gill).
excited atoms, an exploration of virtual mobility in the contemporary performing arts, Judith Staines with Ghislaine Boddington
Published by on the move April 2010
Woven Bodies, Wowen Culture, essay by Ghislaine Boddington in 'Identity, Performance and Technology' (Palgrave Studies in Performance and Technology)
Josephine Machon (Author, Editor), Susan Broadhurst (Author), Dr Susan Broadhurst (Editor), 2013.
Find the full list of Ghislaine's articles and contributions here