Ghislaine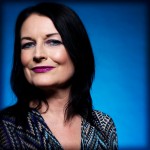 Ghislaine Boddington – Creative Director
Ghislaine Boddington is an artist researcher, dramturg, curator and thought leader specialising, since the mid 90's, on the body's integration into responsive technologies and interactive interfaces.
Ghislaine develops solutions based on twenty years work as co-founder of shinkansen and Future Physical (1989-2004 now archived at British Library and at www.connectivity.org.uk) and she evolved her expertise through working extensively with, amongst others, the ICA, Dance Umbrella, ISTF Hamburg, Theatre de Welt, Random dance Company, Shobana Jeyasingh Dance Company, Monaco Dance Forum and the Akademie of Indian Dance. Ghislaine has directed and curated numerous events, workshops and symposia on the body's relationship to technologies throughout east and west Europe, the US and Asia.
Her personal passion is in the use of tele-presence and her pioneering exploration of identity through tele-kinetics, tele-presence and tele-intuition. This pioneering work has gained much recognition across the last 14 years. She is well known for her work on cultural identity and interauthorship processes of creation which she has explored extensively through the use of tele-presence and virtual worlds.
Ghislaine is regularly invited to presents her thoughts, moderate group sessions, and direct workshops. As a writer she often collates fascinating collections of topical thoughts from creatives worldwide. She is an Associate Editor for Theatre Dance and Performance Training magazine and sits as a jury member on several digital art commissioning programmes in Europe. An FRSA for 12 years she also holds an Artist Research Associateship at ResCen, Middlesex University since 1999.
Some of Ghislaine's publication:
'excited atoms' an exploration of virtual mobility in the contemporary performing arts, Judith Staines with Ghislaine Boddington
Published by on the move April 2010
'Identity, Performance and Technology' (Palgrave Studies in Performance and Technology)
Josephine Machon (Author, Editor), Susan Broadhurst (Author), Dr Susan Broadhurst (Editor), 2013.
Ghislaine Boddington answers questions for b.TWEEN 3D in 2011