Ghislaine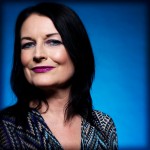 Ghislaine Boddington – Creative Director
Ghislaine Boddington is an artist researcher, dramaturge, curator and thought leader specialising in body responsive technologies, recognised as an international pioneer in full body telepresence. She has created live links between thousands of participants/audiences across the world for educational, performing arts and creative industries usage since the mid-nineties.
Ghislaine extends natural interface techniques, advocating the use of the entire body as an interaction canvas. Her work examines the representation of our physical selves and our identities in virtual environments and the hyper enhancement of our human senses through the digital transmission/reception of body data, such as touch, motion, biofeedback and gesture.
As a dramaturge she has led numerous interdisciplinary creation projects, experimenting with the convergence of the live body with virtual environments, telepresence, motion capture and sense/gesture tech. Recent dramaturgical input for virtual/physical immersive installations include 'me and my shadow' with UK artist Joseph Hyde and 'Visions of Our Communal Dreams' with UK/US Artist Michael Takeo Magruder.
Ghislaine has chaired and keynoted events/conferences in over 30 countries worldwide, most recently in China, USA and East Europe, talking to a diverse range of audiences about the future of virtual physical body interfaces. She is regularly featured on TV, radio and in the press, giving thought shifting inputs to BBC Business World, BBC Click and the New Scientist amongst others.
She is an author forIntelligentHQ, sits on the TDPT editorial board and is juror for international creative industries and digital arts competitions. She is invited as a key innovator to governmental briefings/conferences in UK and beyond. A co-director of the Creative Guild, she is a Fellow of the Royal Society of the Arts and an Artist Research Associate at ResCen, Middlesex University since 1999.
Some of Ghislaine's publication:
'excited atoms' an exploration of virtual mobility in the contemporary performing arts, Judith Staines with Ghislaine Boddington
Published by on the move April 2010
'Woven Bodies, Wowen Culture' essay by Ghislaine Boddington in 'Identity, Performance and Technology' (Palgrave Studies in Performance and Technology)
Josephine Machon (Author, Editor), Susan Broadhurst (Author), Dr Susan Broadhurst (Editor), 2013.
Find the full list of Ghislaine's articles and contributions here
Ghislaine's work presented by Middlesex University as part of their Research Impact Case Studies
Ghislaine presenting as part of Innovation Day Media Trendy 2014 in Warsaw
Ghislaine presenting at MEX 2013

Ghislaine Boddington presentation at MEX 2013 from body>data>space on Vimeo.
More videos
Ghislaine answers questions from Latvian Journalist Adriana Roze
Gilena Badingtone: jaunieši, roboti un avatari from VISSnotiek on Vimeo.
Ghislaine Boddington answers questions for b.TWEEN 3D